Teenager founds own charity and donates over 21,500 toothbrushes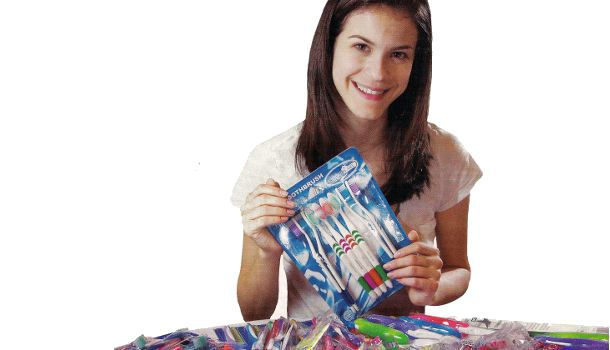 WOODCLIFF LAKE, N.J., USA: A young woman from New Jersey has collected thousands of toothbrushes through the online dental charity she founded a year ago. Through "Donate A Toothbrush" she aims to raise awareness regarding poor oral hygiene in Third World countries. The toothbrushes are shipped to countries such as Papua New Guinea, Kenya and Costa Rica.
Paige Alenick is a senior high school student who started her own charity project in 2011. With a little help from her parents, she managed to launch www.donateatoothbrush.com, a website that urges people to donate new toothbrushes, which are then passed along to dental missions in over 60 countries by World Dental Relief, a recognized charitable organization that receives and distributes dental supplies and equipment.
"The toothbrush is a special possession for a person living in a Third World country," Dr. Ron Lamb, president of World Dental Relief, said in an interview with WCBS Newsradio 880. "Dr. Lamb has been in constant contact with me and frequently lets me know where my toothbrushes have been sent to. Recently, he told me that toothbrushes have been sent to Ethiopia, Costa Rica, Papua New Guinea, Kenya, as well as several other countries," Alenick told Dental Tribune ONLINE.
"The vast majority of toothbrushes have come from the New York City metropolitan area, where I live but I have also received some from England, New Zealand and Australia. For some packages, postage cost even exceeded the value of the toothbrushes," Alenick said.
"I have reached out to many local dentists and many companies, religious organizations and schools in my area, who have been very supportive of my efforts. I have also had some success obtaining toothbrushes from dental supply companies," she added.
When asked whether she is planning to run the charity professionally after high school, Alenick said that she intends to continue to work on expanding the project in the coming year but her goal is to complete her applications to college first.
"One of my aspirations is to bring more attention to the devastating effects of poor dental hygiene throughout the world," she said.
Monday, July 23, 2012 - 16:00