Featured Speakers: 12th Youth Assembly at the United Nations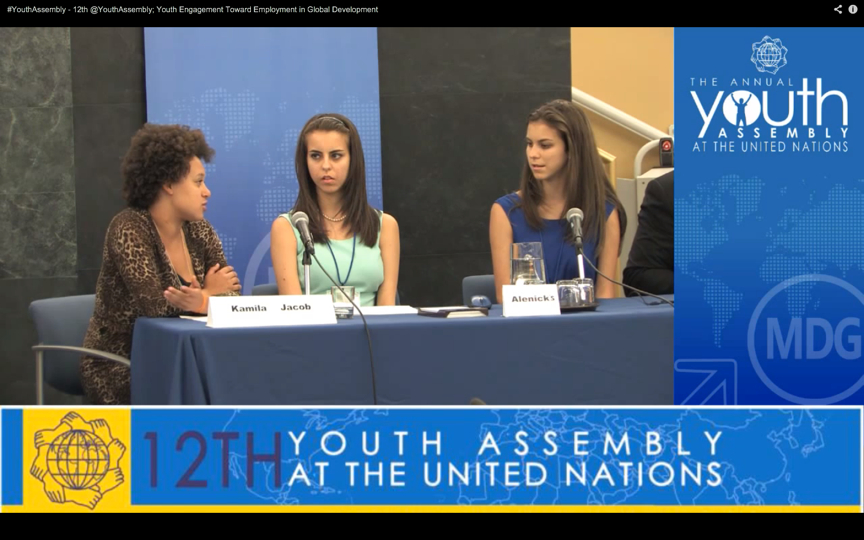 Watch Video Here
; presentation starts at 2:40.
Summer Youth Assembly at the United Nations
 
The Summer Youth Assembly at the United Nations is focused on youth led development in successfully achieving the eight UN Millennium Development Goals. During their two to three days at the United Nations, participants experience plenary sessions, workshops, round table discussions, networking, renowned speakers, expert workshop facilitators, and UN Staff participation in sessions. The goals of the Summer Youth Assembly are to:
 
 
 
 
Provide access to and information about the work, successes and current challenges of the United Nations;
 
 
 
 
 
Promote increased youth participation in UN programs, its agencies and NGO affiliates;
 
 
 
 
 
Strengthen commitment to the achievement of the Millennium Development Goals;
 
 
 
 
 
 
 
 
 
 
Connect committed youth with opportunities, mentors, colleagues, and new associates;
 
 
 
 
 
 
 
 
 
 
Highlight the artistic and diplomatic efforts of young people already involved in development and humanitarian initiatives;
 
 
 
 
 
 
 
 
 
 
Promote renewal of a commitment to serve and respect this most important international institution.;
 
 
 
 
 
 
 
 
 
 

Includes two-day NYC cultural and community service experience


---
Testimonials:
| | | |
| --- | --- | --- |
|   | "I feel inspired. I feel motivated and I think this conference has empowered me enough to go for my dream and vision." - Daniel Henry Smith, Participant |   |
|   |   |   |
|   | "This experience has been an eye opener for me. I think the MDG's are great and I've learned alot about cultures and networking as well." - Ezana Tadese, Participant |   |
|   |   |   |
|   | "Oh I was in New York", yet it's a bigger privilege to say "I am a youth assembly alumna". - Farah l. Abdel Sater, United Nations Youth Association of Lebanon, President |   |
|   |   |   |
|   | "It is a great pleasure to send greetings to FDU's Youth Delegates. I can't thank you enough for demonstrating your commitment to making a difference, and I encourage each of you to continue to give back to others." - Michael R. Bloomberg, Mayor, New York City |   |
---
About Friendship Ambassadors Foundation:
Founded by Fulbright Scholar Harry Morgan and well respected travel professional Cappy Devlin, Friendship Ambassadors Foundation, Inc., (FAF) has facilitated international travel and exchange programs as an independent foundation since 1973. Since its inception, FAF has cultivated international affiliations and representation in order to fulfill its mission to promote Youth Leadership capacity-building opportunities and Peace Through Cultural Exchange. Since 1993, the organization has been led under the consistent direction of Patrick Sciarratta as Executive Director. In 2011, he was invited by King Mohammed VI to the Fez Conference of Noble Laureates to address skill building for youth leaders and then afterwards to the Arab League Youth Leadership Workshop in Cairo, Egypt, helping to build skills for youth leaders recently involved with what has been called the "Arab Spring." The Foundation's rich history includes significant collaborations to help heal families of victims of terror, with a strong focus on communities throughout the world where cultural strengthening with the US is critical. FAF has focused on regions emerging from natural or man-made disasters and received national recognition for its work with 9/11 families, in particular.
About Fairleigh Dickinson University:
Fairleigh Dickinson University is the largest private university in the state of New Jersey and a center of academic excellence dedicated to the preparation of world citizens through global education. More than 12,000 students from 32 states and 85 countries are enrolled on the University's two campuses in northern New Jersey and its international campuses in Wroxton, England and Vancouver, Canada. The University strives to provide students with the multi-disciplinary, intercultural, and ethical understandings necessary to participate, lead, and prosper in the global marketplace of ideas, commerce and culture. FDU offers over 100 degree programs at the associate, baccalaureate, master's and doctor's levels. Its wide range of offerings, coupled with the depth and expertise of its faculty, has Fairleigh Dickinson University poised to serve the citizens of New Jersey and beyond. One of the many initiatives at FDU designed to enhance global education for youth from many diverse countries is the Emerging Global Leadership Seminar.
Wednesday, August 7, 2013 - 16:00