Do-Gooders: Sharing Smiles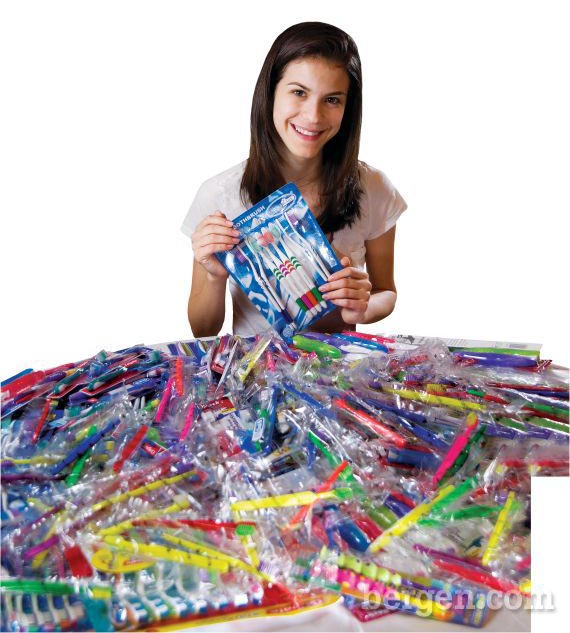 BY MARY VALLO BERGEN.COM
You never know when inspiration might strike. For 16-year-old Paige Alenick of Woodcliff Lake, the light bulb went off one evening about eight months ago, as she was brushing her teeth just before bed. She happened to marvel at the ingenious simplicity of a toothbrush and appreciate what a neat tool it is in getting an important hygienic job done.
"I was thinking about how fortunate I was to have a very simple tool, and I knew a lot of kids weren't as lucky as I am to have access to this," she explains.
The next step in what turned out to be her own charitable project with global implications was a little research. "I was just astonished to see how poor these children are, suffering from dental health diseases because they don't have the tools," she says.
Thus Donate a Toothbrush was born. Paige, a Pascack Hills High School junior, learned of World Dental Relief, a recognized charitable organization. "They go to about 65 countries," she says, "and they always take donations of toothbrushes."
The toothbrushes, the source of her original inspiration, is how Paige decided to help. Through a website she collects toothbrushes to pass along to World Dental Relief. So far, she has sent about 1,400 of them to the relief agency.
"Part of the interesting thing about the website is that I have been getting donations from people – the farthest, I think, is California. They just saw it on the website and they sent me a box of toothbrushes."
Paige is not new to charitable organizations. She and sister Ashley were the youngest members (at ages 7 and 10, respectively) in JOY, Joining Young and Old, a musical community service group at the Academy of Holy Angels in Demarest. The primarily high school singing group performs for residents of assisted living facilities. Paige is now co-president of the group.
Music is an important part of Paige's life. She plays the piano and is in her high school chamber choir. College is in the offing, and SAT preparation is on the agenda for now.
But college won't change the inspiration she found that evening brushing her teeth. "I am hoping to continue this long after I graduate," she says.
Website: Donateatoothbrush.com
Toothbrushes can be sent to: Donate a Toothbrush, 333 Old Hook Road, Suite 101, Westwood, NJ 07675.
- See more at: http://www.bergen.com/family/Do-Gooders.html#sthash.eTGHaIj1.dpuf
Tuesday, January 10, 2012 - 13:45